Back to top
Textile Collection Max Berk
The textile collection was founded in 1978 by the Heidelberg manufacturer Max Berk. It is idyllically situated in the Neckar valley and has been affiliated with the Kurpfälzisches Museum since 1 January 2002. The collection is located in the former protestant church in Ziegelhausen, built in 1733 by J.J. Rischer, and adjacent vicarage. The exhibition area today is approximately 600 m².
The museum is divided into several sections, although several of these sections, including the extensive array of women's costumes from the 18th to the 20th century and a small collection of doll's houses, are not always on display. The sections permanently open to visitors house exhibits from outside Europe, such as textiles from India, batiks from Java, ikats from Bali and relics from Peruvian graves, plus antique patchwork quilts from England and the US from the 19th and 20th century, which form one of the main focuses of the Max Berk textile collection.
The regular special exhibitions, such as the European Quilt
Triennial, always attract many visitors.

Adresse
Textile Collection Max Berk
Brahmsstraße 8
69118
Heidelberg
+49 6221 80 03 17
Horaires d'ouverture
Open all year
Saturday - Sunday:
13:00-18:00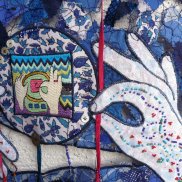 Heidelberg
Hand in hand
For the second time, the Guldusi embroidery program launched by the German-Afghan Initiative (DAI e.V.) is making a guest appearance at the Max Berk Textile Collection. The association, founded in ...
Exhibition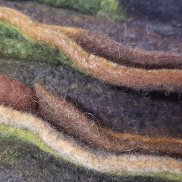 Heidelberg
FocusFELT
Organized by Bärbel Helfrich and Ulrike Hartrumpf, the exhibition FokusFILZ presents multifaceted objects and images. These give insight into the diverse creative freedom that the material felt has to ...
Exhibition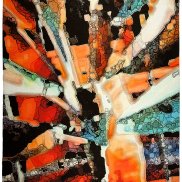 Heidelberg
Abstract: Textural Elements
Abstract art uses the pure elements and principles of design to evoke emotions and thoughts in the viewer. Because it is so free and untethered from the real world, the diversity of abstract art is ...
Exhibition