Back to top
Kurpfälzisches Museum Heidelberg
Located in the heart of the city centre the Kurpfälzisches Museum (Palatinate Museum) is displaying the best it has to offer: the Palais Morass serves not only as headquarters but is also the most beautiful Baroque Palais in Heidelberg's old town centre. The history of the museum dates back to 1810 when the French immigrant Count Charles de Graimberg decided to dedicate his collection to the heritage of the Heidelberg Castle and the Palatine dynasty. In 1879 his collection was purchased by the city council. The museum was moved from the Castle to the main street and reopened in 1908 as "Städtische Kunst- und Alterthümersammlung" in the Palais of the law professor Philipp Morass, built in 1712.

The extended exhibition of art, history and heritage of the region and the capital was financed by the city council and citizens' foundations. Meanwhile the museum showcases collections of paintings from the 15th century to the 20th century, handcrafted art, graphic collections, archaeology, local heritage and the 'Kurpfalz' (Electoral Palatinate).
Adresse
Kurpfälzisches Museum Heidelberg
Hauptstraße 97
69117
Heidelberg
+49 6221 58 34 020
Horaires d'ouverture
Open all year
Tuesday - Sunday:
10:00-18:00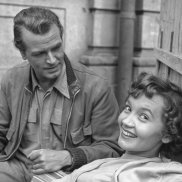 Heidelberg
Heidelberg in the 1950s
The post-war years still shaped life in Heidelberg. But the magic of a new beginning was already in the air, heralding the prosperous years of the economic miracle. Fritz Hartschuh, passionate ...
Exhibition