Back to top
Landesmuseum Württemberg
with the children's museum 'Junges Schloss'
The Old Castle in the heart of Stuttgart is both a place of legend and a place of history. Once upon a time the residence of the Dukes of Württemberg, BadenWürttemberg's largest museum of cultural history now invites you to take a journey through history. With its unique exhibits and priceless collections of archaeology, art, cultural history and folklore, the Württemberg State Museum is an incomparable treasure trove: it is home to important testimonials of the cultural heritage of our region.
Adresse
Schillerplatz 6
(Altes Schloss)
70173
Stuttgart
+49 711 89 535 111
Horaires d'ouverture
Open all year
Tuesday - Sunday:
10:00-17:00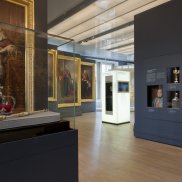 Stuttgart
LegendäreMeisterWerke
Atemberaubende Steinzeitkunst, kostbare Grabbeigaben, mächtige Könige und vieles mehr erwarten den Besucher im 2. Obergeschoss auf einem Rundgang durch sieben Epochen und über 80.000 Jahre ...
Exhibition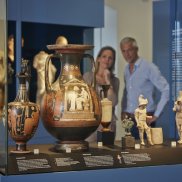 Stuttgart
A Wealth of Treasures
The Württemberg State Museum presents on 1,000 sqm a new exhibition space with three top-class collections and focuses on the historical roots of Europe. ANTIQUITY Greek vases, delicate jewellery ...
Exhibition