Back to top
Stadtmuseum Aarau
Since 1939, the medieval fortified tower-house has been used as the museum of the city of Aarau. After 750 years - 75 years in the case of the museum - the building structure was in urgent need of renovation. The meticulous restoration and expansion has given the Stadtmuseum Aarau a very distinctive appearance.

The opening exhibition ranges from the Enlightenment to the present day and raises questions about direct democracy, equality and engagement in our society. The annual rhythm of the great exhibition will be complemented by smaller and agile formats in the foyer or the «Foto+Film» room. The permanent exhibition in the old building presents the historical rooms and a selection of the collection in a new light.
Adresse
Schlossplatz 23
5000
Aarau
+41 62 836 05 17
Horaires d'ouverture
Open all year
Tuesday - Wednesday:
11:00-18:00
Saturday - Sunday:
11:00-17:00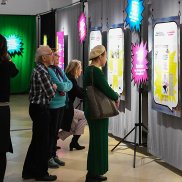 Aarau
In search of the truth
The traveling exhibition of the Journalistory association is visiting the Stadtmuseum Aarau and offers playful and interactive opportunities to learn about the working methods of journalists ...
Exhibition