Back to top
Staatsgalerie Stuttgart
The State Gallery of Stuttgart is home to a unique collection of seven centuries of art. In addition to the permanent exhibition, several interesting special exhibitions are presented each year. Besides the traditional collection field, namely Old German, Italian and Dutch art and Swabian Classicism, the museum also showcases classical modernism and contemporary paintings and sculptures. On display are important groups of works in diverse styles, such as Fauves, Bridge, Blauer Reiter, and Cubism as well as exceptional works by Picasso, Beckmann, Schlemmer, Beys, Kiefer and Baselitz.

The oldest part of the building was built in 1838-1843 under King Wilhelm I. von Württemberg. This makes it one of the oldest museum buildings in Germany. The famous new part of the building, designed by the British architect James Stirling, was adjoined in 1984 and is considered one of the finest examples of post-modern architecture. The newest part of the building was designed by Wilfrid and Katharina Steib. It has been hosting the traditional graphic collection comprising more than 400,000 drawings, water colour paintings, collages and graphic reproductions, a collection of posters and photo art since 2002.
Adresse
Konrad-Adenauer-Straße 30-32
70173
Stuttgart
+49 711 470 400
Horaires d'ouverture
Open all year
Tuesday - Wednesday:
10:00-17:00
Friday - Sunday:
10:00-17:00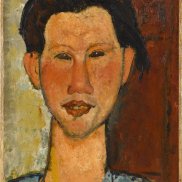 Stuttgart
Amedeo Modigliani
The exhibition shows around 100 paintings and works on paper by the Italian artist and juxtaposes them with works from his Parisian surroundings - by Gustav Klimt, Egon Schiele and Ernst Ludwig ...
Exhibition