Back to top
Saline Royale
UNESCO world heritage
The Saline Royale (Royal Saltworks) Arc-et-Senans is nowadays famous for its architecture rather than for its former industrial activity. A permanent exhibition, which is located on the ground floor of the headquarters, focuses on the history of the saltworks and salt production. Six rooms host numerous pieces that exemplify evey aspect of salt, such as production and consumption throughout the world.

Ledoux Museum: The only museum that is dedicated to one architect is the Museum Claude Nicolas Ledoux, which highlights the life and works of the founder of the Royal Saltworks. 60 models showcase the architect's life whose influence can nowadays only be seen in few buildings since they were either not built or destroyed.

Memorial of the site: "The saline after the saline" from 1895 until today. When people hear about the saline, they instantly think of the architect's masterpiece and the history of the saltworks, however the closing down in 1895 is rarely mentioned. The memorial hosts documents about unfinished projects, the threat of extinction, a place under lock and key and times of uncertainty until its revival in 1960, which included its restoration and its listing as a UNESCO World Heritage Site.
Adresse
Grande rue
25610
Arc-et-Senans
+33 3 81 54 45 45
Horaires d'ouverture
Monday - Sunday:
10:00-12:00, 14:00-17:00
,
Monday - Sunday:
9:00-18:00
Monday - Sunday:
9:00-19:00
Monday - Sunday:
9:00-18:00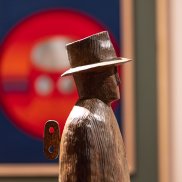 Arc-et-Senans
Le Monde de Folon
Entrez dans l'imaginaire de l'artiste belge Jean-Michel Folon qui nous partage son regard imagé et surprenant du monde. Une parenthèse artistique poétique et humaniste, à la découverte de plus de 200 ...
Exhibition