Back to top
Musée Alsacien de Strasbourg
The Alsatian Museum is a social museum that takes visitors on a charming tour of old Strasbourg homes linked by wooden staircases and passageways.

Thousands of objects bearing witness to rural life in Alsace in the 18th and 19th centuries are on display, including costumes, furniture, ceramics and toys. Reconstructions of typical Alsatian interiors and craftsmen's workshops punctuate the museum tour.

Several rooms are fairly faithful replicas of rural interiors, such as the Stùb of a farmhouse in Wintzenheim, while others are more imaginary, such as the kitchen or the chemist's workshop.

Visitors to the Alsatian Museum move through the rooms as if they were walking through a house whose inhabitants have just left. The creaking floors, furniture and objects evoke a life that is both familiar and very different from today's.

To breathe new life into its collections, the Alsatian Museum organises a number of events and exhibitions that highlight its constant concern to link past and present, tradition and modernity.
Adresse
Musée Alsacien de Strasbourg
23 - 25 quai Saint-Nicolas
67000
Strasbourg
+33 3 68 98 50 00
Horaires d'ouverture
Open all year
Monday:
10:00-13:00, 14:00-18:00
,
Wednesday - Friday:
10:00-13:00, 14:00-18:00
,
Saturday - Sunday:
10:00-18:00
Annual closing days :
January 1st, Good Friday, May 1st, November 1st and 11th, December 25th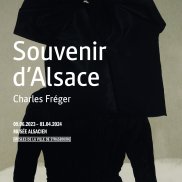 Strasbourg
Charles Fréger. Memories of Alsace
The exhibition 'Memories of Alsace' presents the result of an artist's residency undertaken by Charles Fréger in Strasbourg between 2018 and 2022. During that period, the Alsatian Museum and La ...
Exhibition