Back to top
MUKS
The most beautiful toy museum in Switzerland is located in the former mansion of the mayor of Basel, Johann Rudolf Wettstein. The 17th-century building is located in the heart of the oldvillage ofRiehen. It hosts a remarkable collection of dolls, model railways, boxes of building blocks, dolls' houses, toy shops, tin figures and much more from between 1780 and 1950.

The village museum presents everyday life in Riehen in the early 20th century. The wine cellar demonstrates the importance of viniculture, and special exhibitions, guided tours and workshops for children and adults complement the range of offers.
Adresse
Baselstrasse 34
4125
Riehen
+41 61 646 81 00
Horaires d'ouverture
Open all year
Wednesday - Sunday:
11:00-17:00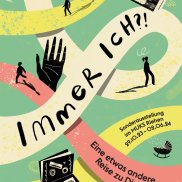 Riehen
"Always Me?! A slightly different journey to you"
A glance in the mirror, then a clumsy finger lands on the tip of the nose: "That's me!" Hardly anyone may remember this moment, and yet a great adventure begins here: Who am I? What do I want to ...
Exhibition