Back to top
Bischöfliches Dom- und Diözesanmuseum
The Episcopal Cathedral and Diocesan Museum of Mainz is regarded as one of the biggest ecclesiastical Museums in Germany. In the historical rooms the permanent collection comprises sacral works of art from two millennia. The very location of the museum is in itself a part of its attraction. As the name implies, the "Bischöfliches Dom- und Diözesanmuseum" is situated in the cloister of the imposing Mainz Cathedral.
Adresse
Bischöfliches Dom- und Diözesanmuseum
Domstraße 3
Der Eingang des Museums liegt im Kreuzgang des Doms
55116
Mainz
+49 6131 25 33 44
Horaires d'ouverture
Open all year
Tuesday - Friday:
10:00-17:00
Saturday - Sunday:
11:00-18:00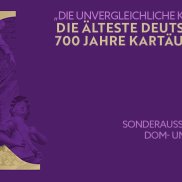 Mainz
"The incomparable precious Charterhouse"
Travel reports of the 18th century praised the Carthusian monastery in Mainz as an "incomparably precious Carthaus", whose visit was one of the highlights of every trip to the Rhine at that time. In ...
Exhibition