Back to top
Wilhelm-Hack-Museum
The founding of the Wilhelm Hack Museum was made possible by a generous donation by the Cologne businessman Wilhelm Hack (1899-1985), who gave his important art collection to the city of Ludwigshafen in 1971. Since 1979, this collection has been shown together with the municipal art collections in a museum that was newly built at the former Ludwigshafen marketplace, now Klüber Platz.


Over a period of almost fifty years, Wilhelm Hack had placed emphasis on different fields in his collection. These are the three major components:

-The "Gondorfer Fund" derives from an excavation of tombs from the Migration Period in Gondorf at the river Mosel and includes Celtic, Roman, and Franconian grave furnishings from the 5th century BC to the 8th century AD.

- The medieval religious art comprises metal and ivory works, book and glass painting, and, above all, sculptures and panel painting of an extraordinary quality.
- The museum's supra-regional importance is, however, due to the third group of artworks from the 20th century: the collection of modernism documents the development of non-representational art from its beginnings around 1910 to the present.
Adresse
Berliner Straße 23
67059
Ludwigshafen
+49 6215 04 34 11
Horaires d'ouverture
Open all year
Tuesday - Wednesday:
11:00-18:00
Saturday - Sunday:
10:00-18:00
49.479857142762, 8.4439265727997
-
ARTE film premiere: Mondrian
The ARTE documentary follows in the footsteps of Piet Mondrian, the most widely and diversely cited artist of the 20th century. Countless artists* all over the world deal with Mondrian's neoplastic ...
Event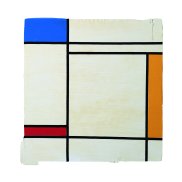 Ludwigshafen
Re-Inventing Piet. Mondrian and the consequences
Whether it's clothes, cosmetics packaging, T-shirts, bags or entire house facades - everyone knows Piet Mondrian's catchy and quickly recognizable compositions, which are characterized by the primary ...
Exhibition