Back to top
Porsche Museum
At Porsche's headquarters in Zuffenhausen, Stuttgart, the past meets the future. The Porsche Museum has been showcasing the history and fascination of the brand since 2009 in a modern and vibrant way. The Porsche Museum keeps tradition alive by reflecting the values of the company in the present and transporting them into the future. The brand's clear commitment to electric mobility goes hand in hand with an equally clear commitment to the company's roots.

Of the over 700 Porsche models in the museum's collection, around 80 cars and various small exhibits tell the story of the sports car manufacturer. The regular changeover of exhibits as well as special exhibitions on different subjects and anniversaries ensure that the museum remains very dynamic. The Porsche Museum also sends its most authentic brand ambassadors all over the world, for example to classic car rallies and other historic race events in more than 30 countries. With this concept, part of the "Mission Future Heritage" strategy, the Porsche Museum aims to proactively spread its historic work throughout the world.

Highlights of the museum's digital offensive are the multimedia guide and the 12-metre-long multi-touch wall, which takes visitors on a journey through time. Visitors can also look forward to the interactive sound installation "Porsche in the Mix", virtual live tours, and the digital "Porsche Holographic Design Tour" experience.
Adresse
Porscheplatz 1
70435
Stuttgart
+49 711 911 20 911
Horaires d'ouverture
Open all year
Tuesday - Sunday:
9:00-18:00
The Porsche Museum is open to visitors from Tuesday to Sunday, 9 am to 6 pm.

All areas have barrier-free access.

For more information, visit: www.porsche.com/museum/en/, www.instagram.com/porsche.museum and www.facebook.com/porsche.museum.stuttgart
48.834212034897, 9.1525501012802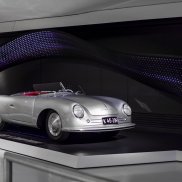 Stuttgart
75 Years Porsche Sports Cars
The Porsche Museum invites to a journey through 75 years of Porsche brand history. The whole museum is infused with a new atmosphere. Between the prologue and the epilogue, the special exhibition ...
Exhibition