Back to top
Museum of Music Automatons
The melodic museum
The Seewen Museum of Music Automatons houses one of the world's largest and best-known collections of Swiss cylinder and disc music boxes, clocks and jewellery containing musical mechanisms and other mechanical music automatons from the past two centuries.
The Museum of Music Automatons in Seewen offers a guided tour through the permanent exhibition, entitled "Switzerland – a Country of Sound Pioneers", which examines topics including Swiss music boxes. This guided tour is included in the entrance fee and invites the visitor to a magic journey through the music boxes sounds.
Adresse
Museum of Music Automatons
Bollhübel 1
4206
Seewen
+41 58 466 78 80
Horaires d'ouverture
Open all year
Tuesday - Sunday:
11:00-18:00
Groups taking an exclusive tour may visit the museum outside the normal opening hours, i.e. before 11 am and between 6 pm and 8 pm - on Monday too.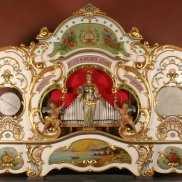 Seewen
ON THE ROAD
On streets and squares, the tunes from barrel and fairground organs entice passers-by. The special exhibition 'on the road' follows their sounds and provides an insight into life and society at ...
Exhibition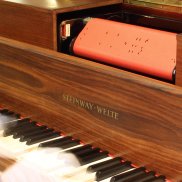 Seewen
MAGIC PIANO
The golden 1920s were a time of upheaval and pleasure. Under the title "Magic Piano," the Museum of Music Automatons is devoting a special exhibition to the self-playing pianos of the time. The ...
Exhibition