Back to top
Museum Haus Löwenberg
The House Löwenberg serves as meeting point and is located right in the heart of the baroque old town of Gengenbach. The museum hosts contemporary art and photography exhibitions that cover numerous topics, epochs and intercultural projects. They invite visitors to become active team members during the exhibitions while they sit on kinetic objects, which are integrated in the exhibition rooms. Volunteer workers are happy to guide visitors through the exhibitions or to host creative work shops. The House Löwenberg is valued as a community organisation with a focus on trans-regional programmes.
Adresse
Hauptstraße 17
am Marktplatz
77723
Gengenbach
+49 7803 93 01 41
Horaires d'ouverture
Tuesday - Friday:
11:00-17:00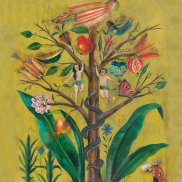 Gengenbach
Paradises
When the illuminated windows of the Advent calendar in Gengenbach cast their spell, art lights are also put up in Haus Löwenberg, radiating from afar. Olaf Hajek, a globally sought-after "bird of ...
Exhibition