Back to top
Musée du Temps
The museum's collections combine two fields of interest: firstly the watch collection of the Museum of Visual Arts which is technically the first public collection in France and secondly the collections of the Museum of Local History. Yet the assortment does not end there – technological objects of all kinds, 1,500 clocks and watches, drafts and cases, more than 100 grandfather clocks, Comtoise watches, pendulum clocks and many more are complemented by a selection of more than 2,000 watch-related etchings from the 16th to the 19th century, tools, machines and scientific instruments from the past and today. Among these, visitors can find equipment from high-tech laboratories, resonators and oscillators of quartz, micro-manipulators and robots….
Adresse
96 Grande rue
(Palais Granvelle)
25000
Besançon
+33 3 81 87 81 50
Horaires d'ouverture
Tuesday - Friday:
10:00-12:30, 14:00-18:00
,
Saturday - Sunday:
10:00-18:00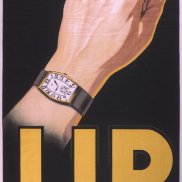 Besançon
Lip.ology (working title)
Founded in 1867 by Emmanuel Lipmann, Lip is one of the companies that have shaped the destiny of the French watchmaking industry. The MDT would like to explore Lip's power of attraction. Why is this ...
Exhibition