Back to top
Musée des Beaux-Arts et d'Archéologie
The Museum of Visual Arts and Archaeology in Besançon is the oldest public French collection, dating back to 1694. This is almost one century before most French museums were founded, during the era of the French Revolution. The most famous is the Louvre which was opened in 1793. Yet as early as in 1694, the Abbot Jean-Baptiste Boisot from St-Vincent bequeathed his collections to the Benedictines. The "Museum Library Boisot" was open to the public during the 18th century and was extended in the 19th century by the Pierre-Adrien Pâris collection and the legacy of Jean Gigoux. In the 20th century the collection was complemented by the collected works of George and Adéle Besson. This led ultimately to the redesign by the architect Louis Miquel, a pupil of Le Corbusier. From 1968 to 1970 Miquel built a concrete structure consisting of diagonal levels in the inner courtyard of the building.
Adresse
Musée des Beaux-Arts et d'Archéologie
1 place de la Révolution
25000
Besançon
+33 3 81 87 80 67
Horaires d'ouverture
Wednesday - Friday:
14:00-18:00
Saturday - Sunday:
10:00-18:00
Monday:
10:00-12:30, 14:00-18:00
,
Wednesday - Friday:
10:00-12:30, 14:00-18:00
,
Saturday - Sunday:
10:00-18:00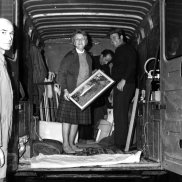 Besançon
La Grande Mademoiselle
Marie Lucie Cornillot (1905-2002) was curator of the Besançon Classified Museum between 1946 and 1972. Affectionately known as "La Grande Mademoiselle" by her colleagues, she left her mark on the ...
Exhibition