Back to top
Mercedes-Benz Museum
Pay a visit to the inventor of the automobile
Every future has a heritage – visitors to the Mercedes-Benz Museum are able to experience the fascinating interaction between innovation and history at every turn. It is here, directly outside the brand's home plant in Untertürkheim, that more than 135 years of innovative culture can be viewed and admired. More than twelve million visitors have already come to the Museum to tour the exhibition and enjoy events ranging from concerts to cinema shows.

The Museum celebrates the automobile invented by Carl Benz in 1886: it relates its history and tells its stories, bringing both alive by placing them in the context of technology, day-to-day life, social history and popular culture. More than 160 vehicles of all types are the main protagonists. They range from some of the oldest automobiles ever.
Adresse
Mercedesstraße 100
70372
Stuttgart
+49 711 17 30000
Horaires d'ouverture
Open all year
Tuesday - Sunday:
9:00-18:00
Ticket office closes at 5 p.m. each day.

Opening Hours CAMPUS for families:
Saturday 10 a.m. - 1 p.m. and 2 p.m. - 5 p.m.
Sunday 10 a.m. - 1 p.m. and 2 p.m. - 5 p.m.

Children and adolescents before the age of 14, must be accompanied by a legal guardian or equivalent supervisor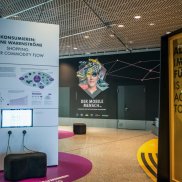 Stuttgart
On the Move.
· Discover the sheer diversity of the mobility of today and tomorrow · Interactive zone allowing participation and discussion · Six companies have contributed their knowledge as partners of the ...
Exhibition