Back to top
Kloster Museum St. Märgen
Black Forest clock and monastery history
The Monastery Museum with its valuable exhibits is divided into theme areas which bring history, art and culture to life in a special way at a place steeped in history, in the historical monastery complex. Black Forest clocks and clock history form the focal point of the museum. Temporary exhibitions on Black Forest life and art complete the spectrum. The collection of the St. Märgen Monastery Museum is one of the most important of its kind in southwest Germany. The presentation in the historical environment creates a unique overall experience of landscape, art and culture.
Adresse
Kloster Museum St. Märgen
Rathausplatz 1
79274
St. Märgen
+49 7669 911 80
Horaires d'ouverture
Open all year
Wednesday - Thursday:
10:00-13:00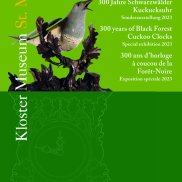 St. Märgen
300 years of Black Forest Cuckoo Clocks
Cuckoo clocks have been made in the Black Forest for 300 years. This makes the cuckoo clock undoubtedly one of the longest-established types of clock ever built here. About 100 artefacts from ...
Exhibition