Back to top
Gutenberg-Museum
Museum for the history of printing, writing and books of all cultures
Experience the history of printing, writing, and books in the Gutenberg-Museum. The Gutenberg-Museum, which lies opposite the cathedral in the heart of the old part of Mainz, is one of the oldest museums of the book and printing in the world. The Museum was founded by a group of Mainz citizens in 1900 and dedicated to Johannes Gutenberg, today's "Man of the millennium", and his inventions.

Two original Gutenberg Bibles of the mid-15th century are among the most valuable treasures of the Museum. Another main attraction is a reconstruction of Gutenberg's workshop. Here the museum visitors are shown on the hour (at 10 and 11 a.m. and at 12, 2, 3, and 4 p.m.) how printing was done during the time of Johannes Gutenberg. A short movie introduces to Gutenberg's life and work. Then you can be led through the museum by a self-guided audio tour explaining the museum's highlights in German, English, and French. Five "extra audio tours" give information on some special sections of the Museum.

At the Gutenberg-Museum, you can see printing presses which span a period of several centuries. You get detailed information on European and non-European printing technology and book art in the course of centuries. You are made acquainted with the history of paper and writing, the history of newspapers and magazines, and much more. Our special collections comprise job works and bookplates, graphic art and posters, fine editions (small publishers) and artists' books which you can view in the museum library (please inform the library beforehand). Our temporary exhibitions present examples of historic and modern art of printing and typography and provide an insight into the developments of the 21st century.

A visit to the museum's educational print shop (Druckladen) is equally interesting. At the Druckladen, with the assistance of its expert staff, everybody can have a go at typesetting and printing. In addition to that, the Gutenberg-Museum offers the following services: a museum shop, a great variety of educational events and activities for young and old, and several Cafés and Restaurants in the neighbourhood.

We are looking forward to your visit!
Adresse
Liebfrauenplatz 5
55116
Mainz
+49 6131 12 2640
Horaires d'ouverture
Open all year
Tuesday - Saturday:
9:00-17:00
please visit our website for further info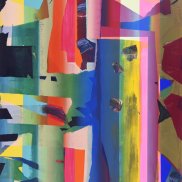 Mainz
Veronika Weingärtner: Shape of color
Stadtdruckerin 2020/2021 creates her prints using the techniques of screen printing and monotype as well as combinations of different printing techniques. For the artist, who lives in Mainz, the ...
Exhibition