Back to top
Château Vodou
Encounter with the invisible world
The Château Vodou is a unique museum, which houses the world's largest private collection of West African vodou artefacts. Every exhibt has been used as part of religious practices: ancestor worship, medicine, divination, witchcraft and other major life events.

Through an evocative display, visitors may discover a fascinating culture and a belief system that is still widely practiced today.
The museum's collections originate in Ghana, Benin, Togo and Nigeria. Their mysteries are showcased in an exceptional location: a water tower from 1878.
Adresse
4 rue de Koenigshoffen
67000
Strasbourg
+33 3 88 36 15 03
Horaires d'ouverture
Open all year
Monday - Sunday:
14:00-18:00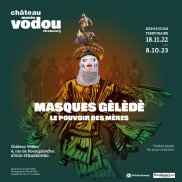 Strasbourg
Masques Gèlèdè
Don't forget to touch the ground with your fingertips if you hear about the Iyami osoronga. The ones who are called "our Mothers" in Yoruba. The ones who are celebrated by the tradition of the Gèlèdè ...
Exhibition