Back to top
Wartime on the Rhine - Lecture by Jürg Stüssi-Lauterburg
The lecturer will provide insight into Swiss history from 1912 onwards from the perspective of threats, defenses and hopes for peace at the end of the Cold War in 1991, looking at Nazi and fascist attack plans and the rescue of bridges and power plants at the end of World War II.

Jürg Stüssi-Lauterburg is part of the team that has been publishing essays on the First World War period in the Neue Fricktaler Zeitung since 2014 and on the Second World War period since 2019.

The exhibition "Rhein geschaut!" is open to interested guests from 6:30 pm.

This event is available in
Museum details
Adresse
Haus zur Sonne
Marktgasse 12
4310
Rheinfelden (CH)
+41 61 835 57 80
Price
Free entry with the Museums-PASS-Musées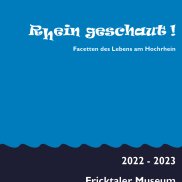 ,
Rheinfelden (CH)
1499 - Fricktal finds from troubled times
In 1499, the Swabian War raged in the Fricktal. Entire villages were burned and plundered by Confederate troops. The Fricktal, which formerly belonged to Habsburg, lay on the border at that time in ...
Exhibition