Back to top
With Pauline through the museum
Audiorundgang - in deutscher Sprache / Audio tour - in German language
Enter the 19th century and meet the little girl called Pauline.
She is the granddaughter of Franz Josef Dietschy, founder of the Salmen brewery. Still a little girl she lives with her parents, brothers and sisters in the house of the sun.
Go up with her across the domestic staircase. Listen at the doors and hear family stories. Once on the top floor, you enter a room and ... return to the present. Pauline learns what happened to her parents' house – it becomes a museum.
In different stations you can hear stories from the museum, about Mozart in the music room, the flea and the plague in Rheinfelden, about the journey of the salmon ... Look for the museum and other buildings on the model of the old city of the museum. And step by step you will get back to the museum's ground floor.

Museum details
Adresse
Haus zur Sonne
Marktgasse 12
4310
Rheinfelden (CH)
+41 61 835 57 80
Price
Paid entry
3
CHF
Rate for holders of the Museums-PASS-Musées only.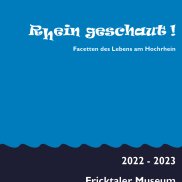 Rheinfelden (CH)
1499 - Fricktal finds from troubled times
In 1499, the Swabian War raged in the Fricktal. Entire villages were burned and plundered by Confederate troops. The Fricktal, which formerly belonged to Habsburg, lay on the border at that time in ...
Exhibition