Back to top
Marion Eichmann. Step by step - Finissage with artist talk
The Städtische Galerie Offenburg invites you to the last tour in the context of the finissage of the current exhibition.
On Sunday, October 8, 2023 at 11 a.m., the Städtische Galerie Offenburg invites you to the finissage with artist talk in the current exhibition "Marion Eichmann. Step by step".
The finissage offers the last opportunity to view the unique exhibition.
The artist Marion Eichmann (*1974) works with paper. She captures the immediate environment around us in sketches and detailed drawings of place and object.
Fascinatingly small-scale, Marion Eichmann also creates views of major metropolises such as New York, Tokyo, Istanbul and Berlin. The exhibition is a large museum show of works with a view of 20 years of artistic creation. Over 100 works, from the beginnings after the study white in white to the spectacular laundromat and the current large-format works for the German Bundestag, allow step by step an insight into the technique and subject matter of the Berlin-based artist.

Fee for the tour with the artist 7 euros, including admission.
Due to the limited number of participants, registration is absolutely necessary by e-mail to galerie@offenburg.de or by phone on 0781 82 2040.
This text was translated by an AI.
This event is available in
Museum details
Adresse
Amand-Goegg-Straße 2
(Kulturforum)
77652
Offenburg
+49 781 82 20 40
Price
Paid entry
7
€
Rate for holders of the Museums-PASS-Musées only.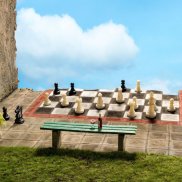 Offenburg
Frank Kunert. Wonderland
Frank Kunert tells of the abysses of life. His buildings and their photographic stagings are reflections of our fears, hardships and longings. They show us the absurdity of the everyday: the grotesque ...
Exhibition