Back to top
Globi «live» at the museum
Meet Globi in person and get your autograph.
Museum details
Adresse
Steinenvorstadt 1
4051
Basel
+41 61 225 95 95
Price
Free entry with the Museums-PASS-Musées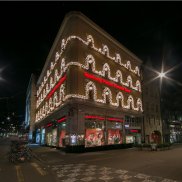 Basel
I'm dreaming of a white Christmas
Like Bing Crosby in the song "White Christmas," many people dream of a white Christmas - of softly falling flakes, powdered fir trees and twinkling lights. Snow, it seems, is as much a part of ...
Exhibition