Back to top
Friday Beyeler: "Kunst und Cocktail" painting workshop in conjunction with "Niko Pirosmani" Friday, 29 September, 6 p.m.–8 p.m.
Inspired both by Niko Pirosmani's representations of Georgian beer houses and their drinking culture and by colourful in-house cocktails, we shall experiment in this workshop with various acrylic painting techniques. Under expert guidance, participants will paint the cocktails directly in front of the object and can also purchase the delicious drinks (alcoholic and non-alcoholic) at a discounted price at the bar at the end of the session.

Meeting point: Ateliers. Drop-in.
Materials will be provided.

"Friday Beyeler" is an invitation to start the weekend off with a relaxed Friday evening visit to the museum. The museum remains open until 9 p.m.; Restaurant until 10 p.m. Unless otherwise indicated, "Friday Beyeler" is included in the museum admission. For a minimum restaurant order of CHF 25 per person admission to the museum on the same evening is free. Further information available here: fondationbeyeler.ch
This event is available in
Museum details
Adresse
Baselstrasse 101
4125
Riehen
+41 61 645 97 00
Price
Free entry with the Museums-PASS-Musées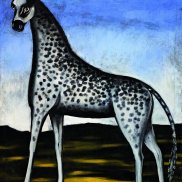 Riehen
Niko Pirosmani
Georgian artist Niko Pirosmani (1862–1918) is a legend: (for now) unknown to many, he is almost fanatically revered by others. As the exhibition will show, Pirosmani was an outstanding exponent of ...
Exhibition