Back to top
Frank Kunert. Wonderland. Photography and object - Vernissage
Sunday 24 November 2023 7 pm
Frank Kunert tells of the abysses of life. His buildings and their photographic stagings are reflections of our fears, hardships and longings. They show us the absurdity of the everyday: the grotesque attempts to arrange our lives, the extinction of old traditions, our dealings with each other and with our history. In the small masterpieces of the winner of the Heinrich Zille Caricature Award 2021, hides a lot, especially subtle, sometimes wry humor.

Photo: Frank Kunert
This text was translated by an AI.
This event is available in
Museum details
Adresse
Amand-Goegg-Straße 2
(Kulturforum)
77652
Offenburg
+49 781 82 20 40
Price
Free entry with the Museums-PASS-Musées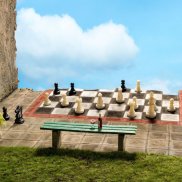 Offenburg
Frank Kunert. Wonderland
Frank Kunert tells of the abysses of life. His buildings and their photographic stagings are reflections of our fears, hardships and longings. They show us the absurdity of the everyday: the grotesque ...
Exhibition