Back to top
From Flax to Linen
The numerous stages necessary to this process are shown in detail in the "Brächete" at the Ballenberg Open-Air Museum. In our modern world the technical terms sound quaint: the flax is carded, retted, crushed, swingled, spun and woven. In the old days these were everyday activities in the Swiss countryside. Try your hand at spinning the thread until you have made some fine linen cloth, and sample the traditional "Brächete-Brönnts" schnapps.


This event is available in
Museum details
Adresse
Museumsstrasse 100
3858
Hofstetten bei Brienz
+41 33 952 10 30
Price
Free entry with the Museums-PASS-Musées
Dates
Saturday - Sunday:
10:00-16:00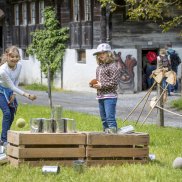 Hofstetten bei Brienz
Let's play!
Did people use the same balls for bowling throughout Switzerland? Did people throw the same jacks? What are the rules of Gilihüsine, an old form of the Swiss sport Hornussen, in Betten (Valais)? And ...
Exhibition