Back to top
Film ab! - Fricktal industrial stories in sound and vision
Experience cinematic trouvailles on Fricktal industrial stories from the 20th and 21st centuries every hour.
Start at 14:00, 15:00, 16:00 and 17:00

This text was translated by an AI.
This event is available in
Museum details
Adresse
Haus zur Sonne
Marktgasse 12
4310
Rheinfelden (CH)
+41 61 835 57 80
Price
Free entry with the Museums-PASS-Musées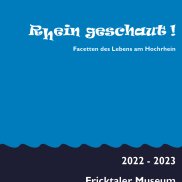 ,
Rheinfelden (CH)
1499 - Fricktal finds from troubled times
In 1499, the Swabian War raged in the Fricktal. Entire villages were burned and plundered by Confederate troops. The Fricktal, which formerly belonged to Habsburg, lay on the border at that time in ...
Exhibition