Back to top
Family Day
The "Niko Pirosmani" Family Day is devoted to the people, animals and natural world in the Georgian artist's paintings. Guided tours for families and an interactive activity booklet offer entertaining approaches to the works and themes of the exhibition. The youngest visitors can take a journey on the story carpet or explore the museum with Fred the Squirrel. There will opportunities to create, explore and play in workshops for all ages.

All Family Day events are included in the museum admission.

This event is available in
Museum details
Adresse
Baselstrasse 101
4125
Riehen
+41 61 645 97 00
Price
Free entry with the Museums-PASS-Musées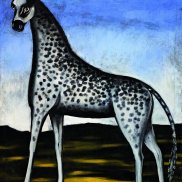 Riehen
Niko Pirosmani
Georgian artist Niko Pirosmani (1862–1918) is a legend: (for now) unknown to many, he is almost fanatically revered by others. As the exhibition will show, Pirosmani was an outstanding exponent of ...
Exhibition