Back to top
Exhibition talk
Rhine looked! Facets of life on the High Rhine
Who still regularly sails on the Rhine and invites you to do so soon? How did they catch the salm in Rheinfelden in the past? What stories and memories of the Rhine might you tell us?

Find out more, exchange ideas and come with us on a tour of the current special exhibition in the Fricktaler Museum.

Followed by an aperitif.
The exhibition is open from 6 pm for interested guests.
This event is available in
Museum details
Adresse
Haus zur Sonne
Marktgasse 12
4310
Rheinfelden (CH)
+41 61 835 57 80
Price
Free entry with the Museums-PASS-Musées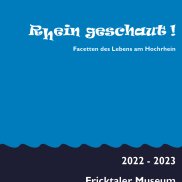 ,
Rheinfelden (CH)
1499 - Fricktal finds from troubled times
In 1499, the Swabian War raged in the Fricktal. Entire villages were burned and plundered by Confederate troops. The Fricktal, which formerly belonged to Habsburg, lay on the border at that time in ...
Exhibition