Back to top
Documentary film "Meisenthal, the story continues
Projection
Tuesday, October 10 at 8pm
Boîte Noire de la Halle Verrière
As part of the Journées nationales de l'Architecture event

Between 2018 and 2022, filmmaker Thomas Lincker followed the architectural requalification of the Site Verrier de Meisenthal. The documentary film "Meisenthal, l'histoire continue" (Meisenthal, the story goes on) takes a behind-the-scenes look at this edifying conversion project, and examines the issues at stake, which will leave a lasting mark on the history of the Meisenthal glassworks and the Pays de Bitche.

Free admission / Running time: 50 minutes
The documentary film "Meisenthal, l'histoire continue" was produced by the Communauté de Communes du Pays de Bitche, with the support of all those involved in the Meisenthal Glassworks and the invaluable assistance of the French government (DETR) and the LEADER funding scheme, supported by the Syndicat mixte de l'Arrondissement de Sarreguemines.
This text was translated by an AI.
This event is available in
Museum details
Adresse
Place Robert Schuman
57960
Meisenthal
+33 3 87 96 81 22
Price
Free entry with the Museums-PASS-Musées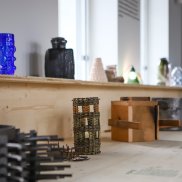 Meisenthal
Sortir du moule
Le Centre International d'Art Verrier présente dans sa galerie, l'exposition "Sortir du moule", qui dévoile une sélection d'objets édifiants, imaginés dans les ateliers de Meisenthal par des designers ...
Exhibition