Back to top
about the fear of losing the stars. The city of Rheinfelden in the 15th century
Medieval festival in Rheinfelden
Visit the special exhibition in the ring wall barn. Follow the Rheinfelders who stood on the ringwalls day and night looking out for the enemy. In the 15th century, the citizens of Rheinfelden feared an attack by the Swiss Confederates from the south on the Habsburg city.
Museum details
Adresse
Haus zur Sonne
Marktgasse 12
4310
Rheinfelden (CH)
+41 61 835 57 80
Price
Free entry with the Museums-PASS-Musées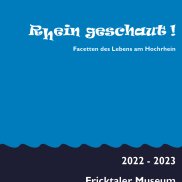 Rheinfelden (CH)
1499 - Fricktal finds from troubled times
In 1499, the Swabian War raged in the Fricktal. Entire villages were burned and plundered by Confederate troops. The Fricktal, which formerly belonged to Habsburg, lay on the border at that time in ...
Exhibition